Changzhou Tongda Medical APP.CO. China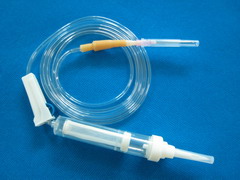 Changzhou Tongda Medical Appliance Co., Ltd is a professional manufacturer and leader exporter for medical products. The full product line includes disposable syringe, infusion set, transfusion set , scalp vein needle and hypodermic injection needle, etc.
                
The company was established in 1999, the total investment value was more than 7.5 million US dollar. It covers an area of 5 hectares and has 1 hectare of "100 thousand grade" purified workshop which is up to the international standard.
Nowadays, the syringe reuse and needle stick injury has been a serious problem to patients and nurses. With a sagacious sense to the healthcare industry and society, we associated with Thailand BeTec Science & Technology Co., Ltd in the year of 2001, developed the Auto-destruct syringe and Safety retractable syringe successfully.